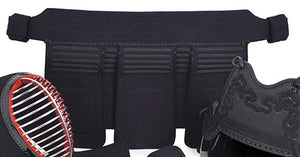 Eikobudogu USA
BAK: 6mm Eikobudogu USA Signature Tare
通常価格
$ 480.00
セール価格
$ 520.00
BAK (Boost Ability for Kendo) is Eikobudogu USA's flagship Bogu set, designed by some of Japan's most experienced craftsmen for Kendoka around the world. From the elegant Bushu-Aizome indigo dyed Futon to the deodorizing and shock absorbing Sorbothane padding, the BAK Bogu set utilizes the finest and most modern materials in the Budogu industry. BAK is the ultimate fusion of traditional design and modern day comfort.
The protective 6mm Tare features 3mm Gunomezashi and top quality Aizome deer leather reinforcements in the areas known to ware out fastest. It has been designed for the comfort and movement of Kendoka in mind, supporing the core of the body without hindering the ability to breathe. The Tare is yet another perfect example of the fusion of traditional design with modern day technology and comfort.
As each BAK Bogu Set is made from scratch to your exact sizes, please allow a lead time of approximately 8 to 12 weeks. For any additional customizations in design or specification, please contact us at sandy@eikobudoguusa.com. 
---
コレクション内の他の商品