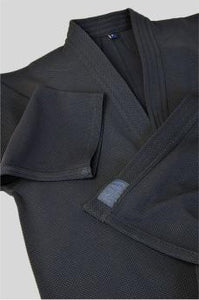 Eikobudogu USA
REIJIN Kendogi : Premium Synthetic Kendogi
In the last few years, the introduction of the synthetic or 'Jersey' style Kendogi has been one of the most revolutionary in Kendo equipment innovation. Reijin - a premium Kendogi designed by Eikobudogu, is the pinnacle of modern master quality synthetic fabric. 
The fabric of the Reijin Kendogi is designed to keep the user feeling cool and fresh, while imitating the distinctive weave style of a genuine cotton Kendogi. The fabric has also been reinforced to prevent ripping - a common issue experienced with many lower quality synthetic Kendogi. 
Reijin is lightweight and comfortable, while the the innovative fabric wicks sweat away from the users body, making it perfect for the summer, or practices in warmer climates. The Reijin Kendogi does not shrink, fade, bleed, and can be conveniently thrown in the laundry like any garment of clothing!
---
コレクション内の他の商品